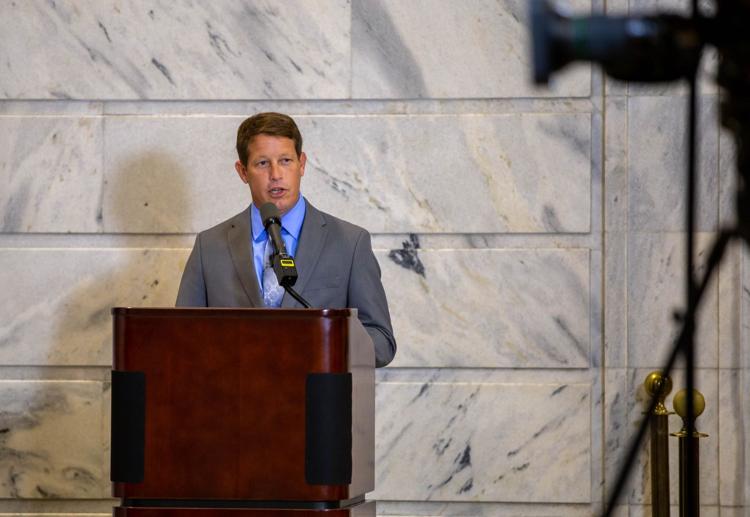 Hopkins County was among the 11 projects awarded a Delta Regional Authority grant for broadband expansion in the amount of $155,500.
Gov. Andy Beshear announced Monday $4,755,270 in grants from the DRA to update infrastructure, expand broadband and health care access, improve economic development opportunities and more in communities across Western Kentucky.
The investments will fund projects that will create or retain 80 jobs, provide workforce training for 433 Kentuckians and will improve the lives of 32,400 families, according to Beshear's office.
This grant will allow Hopkins County to add five broadband communication sites.
"This grant from the Kentucky Department for Local Government and the Delta Regional Authority, along with matching monies from the Hopkins County Fiscal Court, will help Hopkins County continue to move forward with our broadband expansion," said Hopkins County Judge-Executive Jack Whitfield, Jr. "Recent events have proven that broadband access is no longer a luxury but is an absolute necessity for our businesses, our homes and especially our children's futures. Thank you, Gov. Beshear, DLG Commissioner Keene and the DRA for helping Hopkins County move forward."
Whitfield said phase one of this project has already begun by setting up towers in the northeastern part of the county.
"Then we moved around and put what is called a drain in for all the signals to come in so they can go into fiber," said Whitfield. "Then we will be able to start wrapping around the south end of the county."
Whitfield said he is hopeful for more funding through state and federal grants with the combination of county funds, which Whitfield said would be around $150,000 used in county funds.
"We got a grant last year, the same DRA grant, that allowed us to start phase one and this one this year will allow us to keep going," he said.
Whitfield said the goal is to obtain around 50% matching grants saying it is more promising to receive grants when the entity's own money is also being used for the projects applied for.
"If you show that you are not just asking … that helps to get that grant and basically doubles what we would have been able to put in by ourselves," he said.
There are also other avenues Whitfield and the county are looking at, but there is legislation that makes working with private companies difficult in the commonwealth.
"Kentucky has some antiquated statutes and rules that make it hard for some companies to be able to do broadband internet access in the commonwealth, so we are working to try and change some of that," he said.
With COVID-19 limiting in-person teaching and still forcing some workers to stay at home, Whitfield said it is important to finish this project.
"Just from our children's perspective and our schools right now, there are so many doing remote learning that it is critical they have some kind of access to be able to just attend school at this point," Whitfield said. "So many people are working from home and you can't do that successfully if you don't have broadband access."
Whitfield added that some have chosen to not live in Hopkins County because of the lack of broadband.
"We have had people that were looking to move to Hopkins County," Whitfield said. "They had a realtor and had a house they wanted. One couple in particular, one was in charge of shipping and she did all her work from home on the computer and the home they wanted to buy did not have access to decent broadband internet, so they ended up not coming to Hopkins County. If we are going to grow in the future, we have to keep working on this and get decent access."
"These 11 projects will make a great difference for infrastructure, economic development, health care and education, which are all priorities as we build a brighter, better Kentucky," said Beshear. "We are grateful to the local leaders who made these projects possible and for DRA's continued investment in Kentucky."
Department for Local Government Commissioner and Kentucky DRA Designee and Alternate Dennis Keene said DRA remains a crucial partner for the commonwealth.
"We appreciate the work of the DRA and their investment in Western Kentucky," said Keene. "Because of these projects, western Kentucky families will have greater access to critical resources, which is very important as we look for ways to rebuild our economy and provide real opportunity for all Kentuckians."
The DRA, which works to improve economic opportunity and create jobs in 252 counties and parishes in the eight-state Delta region, is investing in these key projects through the States' Economic Development Assistance Program, which provides direct investment into community-based and regional projects to support basic public infrastructure, transportation infrastructure, workforce training and education, and small businesses development with an emphasis on entrepreneurship and through the Community Infrastructure Fund, which targets physical infrastructure projects that help build safer, more resilient communities in the Delta region, according to a release from the Governor's office.