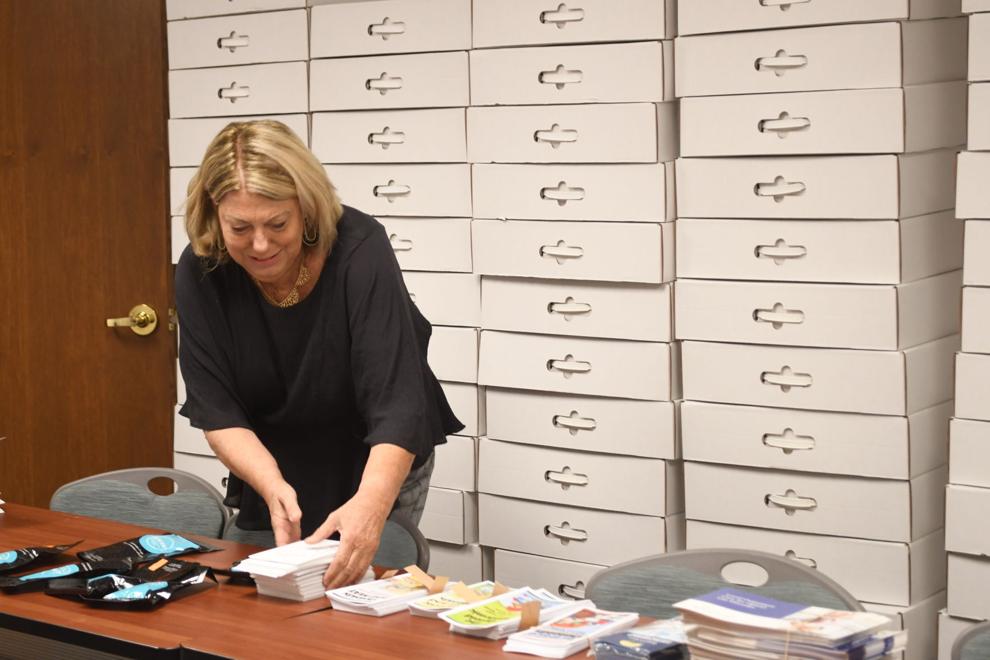 The opioid crisis that has left a path of destruction in its wake knows no boundaries. While lives have been lost and families torn apart, the local business community has also felt the lasting impact of addiction on its workforce.
With that in mind, the Hopkins County Regional Chamber of Commerce and the Kentucky Agency for Substance Abuse Policy of Hopkins County have partnered to offer resources to businesses through what's known as "Training in a Box."
Chamber Member Director Lisa Miller said brochures, posters, information on the needle exchange program in Hopkins County, and where people can go to safely dispose of medication is included in the leave behind being offered to businesses.
"We need a healthy workforce and that is what we are hoping to provide," she said.
Frank Williams, president and owner of Ronald Johnson and Associates, said a couple of his past employees had some problems with drug use, so he is hoping to use the resources to get ahead of the problem.
"I don't think I have any issues right now," he said. "I just want to make them aware of the situation."
At company safety meetings, Williams is planning to incorporate the training material to his workforce.
The idea started in 2019 when the Chamber held a Regional Summit on opioid addiction. Miller said she applied for the same grant this year, but because of COVID-19 didn't feel comfortable having 500 people in the same area.
"So, I rewrote it with a little different option," said Miller. "I thought, 'I will take the training to them.' "
The Chamber and ASAP received just under $20,000 to create the Training in a Box. Miller said they ordered 500 boxes and started contacting organizations like the University of Kentucky, the Kentucky Chamber of Commerce, Baptist Health Deaconess Madisonville, the Hopkins County Health Department, the Pennyroyal Center and Brightview asking for information to include.
"People started responding and giving me information they thought would be helpful," said Miller.
According to the Kentucky Justice and Public Safety Cabinet and Office of Drug Control Policy, more than 1,964 Kentuckians died from drug overdoses in 2020, which is a 49% increase compared to the previous year. Nationally, there were more than 93,000 overdose deaths in 2020, which is the highest number of overdose deaths ever recorded in 12 months.
Miller said she is hoping anyone who needs the help will have access to the available resources.
"I want them to know that people have been there and have recovered and that there are people and organizations in our community who want to help them," she said. "I want them to know that we don't want this increase in overdose deaths to continue, we want to see it go the other way."
Miller said they are looking for volunteers to help stuff the boxes on Monday and Tuesday. On Oct. 4 and 5, she has rented a U-Haul and plans to go from one end of Hopkins County to another, delivering boxes to any open business.
"Chamber members or not, we want them to have this information and be able to utilize it in their workforce if they should ever need it," said Miller.
If anyone does not get a box the first week of October and wants one, they can contact Miller at the Chamber office to request the information by calling 270-821-3435.